Inspections and Measurement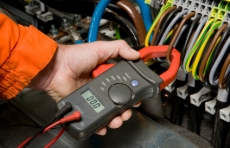 Our inspection technicians are equipped with required inspection instruments, including a HV power supply for 22 kV testing using increased voltage. They not only carry out initial inspections, but also localize failures in electrical equipment. We will make out an inspection report on the basis of inspections carried out for you. We will provide regular inspections as required by law. Your requirements will be fulfilled quickly, carefully and reliably. We observe all operational and hygiene standards during work.
Scope of inspection activities:
inspections of lightning devices;
inspections of low voltage distribution systems (up to 1,000 V);
inspections of high voltage distribution systems (over 1,000 V);
inspections of electrical equipment in objects of the A and B types;
determination of basic characteristics of equipment according to ČSN 33 2000-3, including making out a report;
testing of electrical equipment;
checks and inspections of electric hand tools according to ČSN 33 1600 ed. 2; and
checks and inspections of electrical devices according to ČSN 33 1600 ed. 2.
ELEKTROSTAV Koudela a.s. © 2012 | Developed by
Kinet